DOWNLOAD & TRY FREE DEMO !
All DOTEC-AUDIO plug-ins have free demonstrations in paid version as well.

DeeRAM Direct Memory Recorder / VST & AU & AAX plug-in
DeeRAM is a useful plug-in for delay resolution and comparison during mastering!

The accumulation of delays caused by plug-ins can be very troublesome during mastering.
If there is a delay between the operation and the sound you hear, you cannot fine-tune the parameters to the best of your ability.
But of course, you can't turn off the plug-in because it changes the sound.

This is where plug-ins that allow you to temporarily record and play back the sound in the effects rack come in.
If you play it back from DeeRAM, you can turn off the plug-ins that have a delay!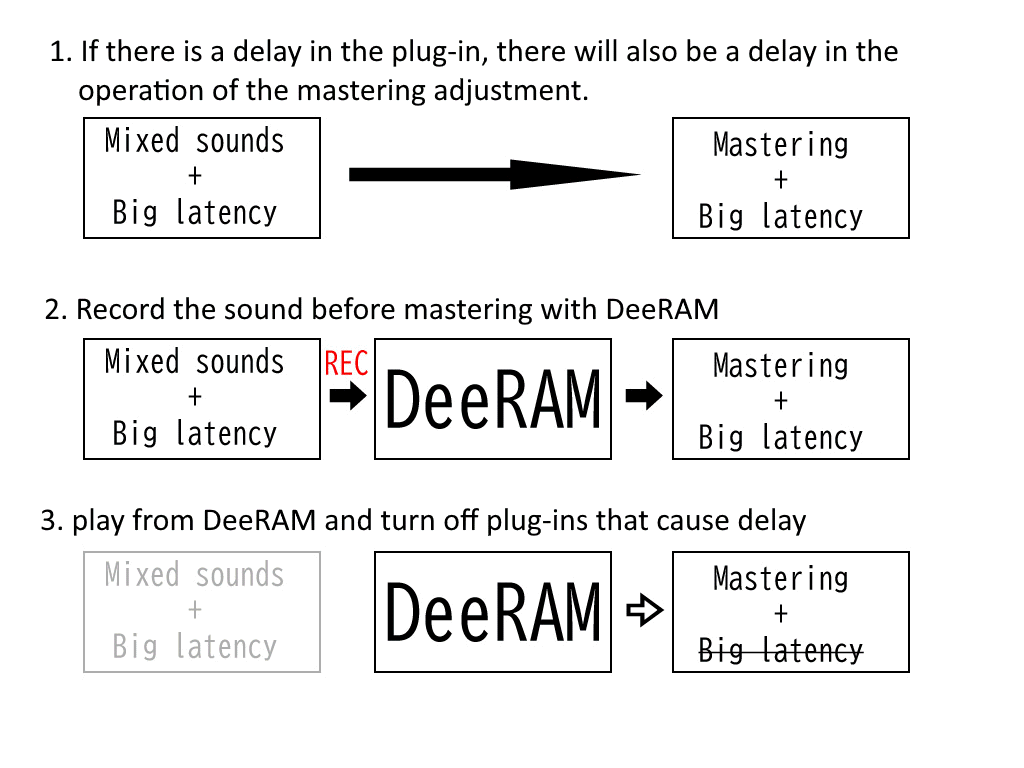 And if you press the play button again while playing back the recording, you can output the input through.
You can also compare the current settings with the A/B settings by recording a bank of recordings before the mastering changes.
This is also very useful for comparing reference tracks.

You can record to four banks (A-D) and play them back from DeeRAM without having to play back your DAW.
Sidechain input for recording from other busses.
You can temporarily record to and play back from the effects rack, so you can use it in a variety of ways.
(e.g. playing back a reference track)
Since the recorded sounds are in RAM, they are automatically deleted when the plug-in is deleted or the DAW is closed.

Demo Video
A/B comparisonDealing with Latency
Release notes
Jun/18/2022 Version 1.0.2 : New!
- Apple Silicon support for AAX for Mac (Other formats are already supported.).

Apl/20/2021 Version 1.0.1 :
Improved UI design to make power on/off easier to understand.

Apl/16/2021 Version 1.0.0 :
First release.