DOWNLOAD FREE !
All DOTEC-AUDIO plug-ins have free demonstrations in paid version as well.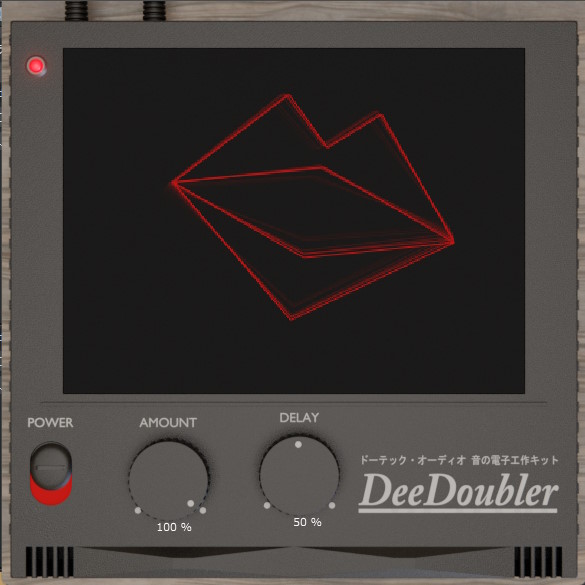 DeeDoubler Vocal Doubler / VST & AU & AAX plug-in
DeeDoubler is a plug-in that adds a doubling effect to vocals.
It brings depth to vocals by layering voices.
By reproducing the mixing technique using filters and phase adjustment that has been done for a long time, it features a clean and classic effect.

Operation is also very simple, with AMOUNT to adjust the amount of doubling and DELAY to adjust the width of the doubling.
It can be enjoyed on a variety of vocal tracks, including main vocals, chorus, and rap.

Demo Video
Checked hosts

Our Plug-ins are tested with following hosts.
Please try demo to check works normally on your hosts.
Ability 4.0
Ableton Live 9.x 10.x 11.x
ACID Pro 10
Audacity 3.x
BITWIG STUDIO 2.x
Cubase 8.x 9.x 10.x
Digital Performer 10
FL Studio 12.x
GarageBand 10.x
Logic Pro X 10.x
OBS Studio 26
Streamlabs OBS V1.0 (Windows only)
ProTools 11.x & 12.x & 2018
Reason 9.5 & 10.x
Serato Studio 1.4
SONAR Xx & PLATINUM / CakeWalk
Studio One 3.x & 4.x & 5.x
Release notes
Feb/1/2023 Version 1.0.1 : New!
Fixed DELAY parameter not being saved.

Jan/20/2023 Version 1.0.0 : New!
First release.