DOWNLOAD & TRY FREE DEMO !
All DOTEC-AUDIO plug-ins have free demonstrations in paid version as well.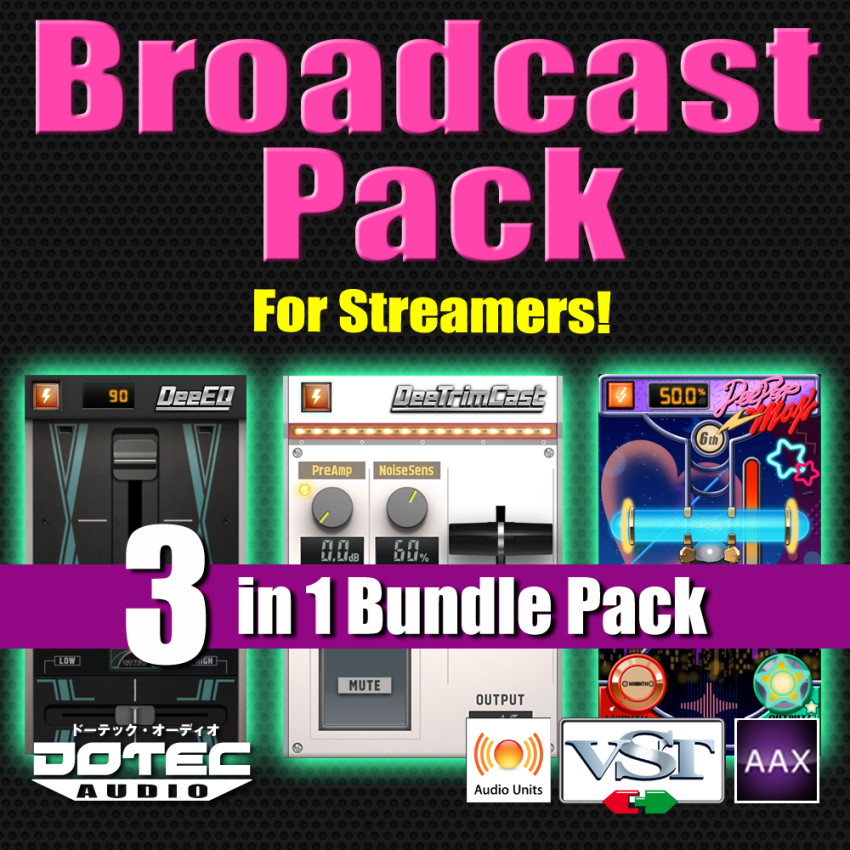 BROADCAST PACK / VST2 & VST3 & AU & AAX plug-in
BROADCAST PACK are three plug-ins which great sound making with easy operation,
It is a special set with DeePopMax, DeeEQ, DeeTrimCast.
You don't have to use some coupons because we provide you BROADCAST PACK at a special price.
$80 USD !!!



DEMO Download
MacOSX VST2/3/AU/AAX
(ZIP 64bit OS 10.12 or later)
Latest version is 1.1.3. These ZIP files include manuals(En/Jp).
The demo version of BroadcastPack has 1 second of silence every 30 seconds.
Please purchase a serial key and register from here in order to use with no restrictions.
* The registration requires a internet connection.
For GMX Mail users
We are experiencing a problem were sending from the DOTEC-AUDIO mail server to
GMX Mail
will result in an error, so please use a different address such as Gmail when purchasing.
If you do not receive an email after your purchase, please notify us at
support@dotec-audio.com
or
DOTEC-AUDIO's facebook page
.
PayPal
Checked hosts

Our Plug-ins are tested with following hosts.
Please try demo to check works normally on your hosts.

Ability 4.0
Ableton Live 9.x 10.x 11.x
ACID Pro 10
Audacity 3.x
BITWIG STUDIO 2.x
Cubase 8.x 9.x 10.x
Digital Performer 10
FL Studio 12.x
GarageBand 10.x
Logic Pro X 10.x
OBS Studio 26
Streamlabs OBS V1.0 (Windows only)
ProTools 11.x & 12.x & 2018
Reason 9.5 & 10.x
Serato Studio 1.4
SONAR Xx & PLATINUM / CakeWalk
Studio One 3.x & 4.x & 5.x
Release note
May/18/2023 Version 1.1.3 : New!
DeeTrimCast has been upgraded to 1.2.0.

Jun/18/2022 Version 1.1.2 :
- Apple Silicon support for AAX for Mac (Other formats are already supported.).
Fab/15/2021 Version 1.0.1 :
DeeTrimCast has been upgraded to 1.0.1.
Fab/12/2021 Version 1.0.0 :
First release.